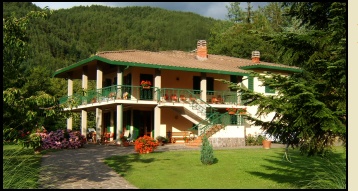 The Bed & Breakfast "Villa i Ciliegi" offers to own visitors an informal welcome, in an appartment with private entrance. A quiet place to relax, away from the stress and chaos of the city, surrounded by nature and enjoying a beautiful views of the mountains.
There was two spacious double bedrooms with private bathrooms and one double room, and a bathroom with shower. Each room is furnished with a simple style to recreate the comforts of a cozy home.
Breakfast is served in the dining area next to the large lounge with fireplace where guests can relax by reading or watching TV, there is also a fully equipped kitchen with all appliances.
If the visitors want to enjoy some fresh from the summer heat the living room opens onto a spacious covered terrace, which offers good views, or can enjoy the large garden.
Good availability of parking in the courtyard of the house